Well, I've not been on here in quite some time…
It's nice to be back :)
So yeah, reasons for my tumblr hiatus: moved out of my previous flat a week before Christmas, after desperately trying to find a way out for months. The people I lived with drove me insane. If it wasn't the creepy fruit-loop walking around in his underwear in the dark, it was the Jeremy Kyle couple kicking seven bells out of each other. I really like my ex-landlady, but she's an awful judge of character. I had to get out of there before I blew a gasket.
I didn't move too far away. My new place is alot cheaper too, and the people here are lovely. They keep themselves to themselves, much like me as my work hours are opposite theirs. I've only just recently acquired internet too, which is also the reason for my absence.

In the time I've been away (well, the last week or so) my pub has obtained a lot of media attention, which has been terrifying and exciting at the same time. When the likes of Stephen Fry and Sir Ian McKellen threw their two pence in, it's become international news. I won't bother going into the details, instead read this article if you're intrigued -  Sir Ian McKellen and Stephen Fry to pay for The Hobbit pub in Southampton's licence fee - The Daily Echo
I've also been drawing an awful lot in the time I've been away. I've not had access to an A3 scanner to upload my most recent stuff, but here's a little teaser of something I'm in the process of completing: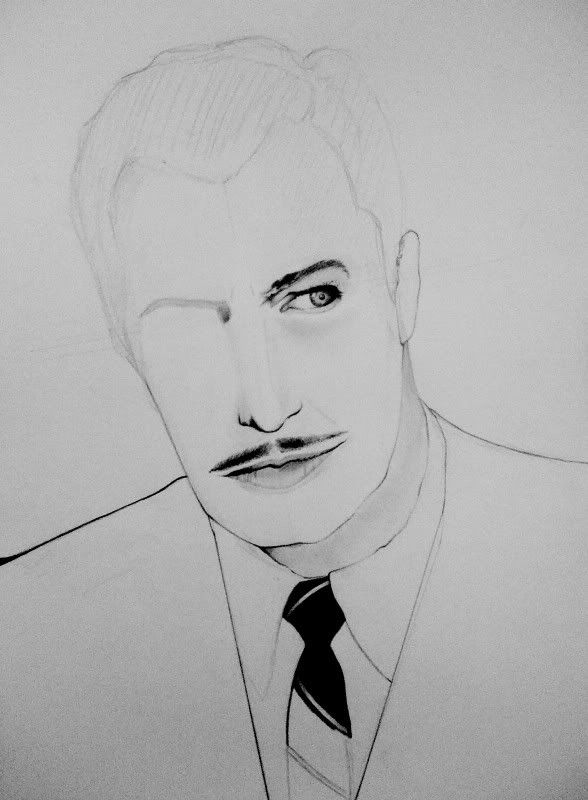 Vincent Price - a childhood hero of mine. (Had to alter the contrast in Photoshop a tad, as iPhone cameras are notoriously shit).
Right, that's pretty much everything up to speed. Will get round to uploading finished portraits/other work within the week.
Keep on tumblin'