Sentiment's a bitch, ain't it?
You know those occasions when you don't think about someone for a long time, then they pop up in your dream, and all those emotions come flooding back? Yeah, I experienced that this morning.

I had a dream last night in which "the one" popped up. Well, I say "the one", she was the only girl thus far in my short 25 years that I ever came close to being in love with. We met at University. Crazy thing is, her taste in clothes, film and music was so far removed from what I looked for in the opposite sex, but for some inexplicable reason, she ticked every box.
I do miss her. We met up a few months ago on a night out. Both of us a tad too tipsy, but it was sweet all the same. She told me she felt so glad to see me. That meant a lot to me.

I've been thinking about her most of the afternoon. I'm sure we'll meet up again in the not too distant future, but in the meantime, I just hope she's happy.
My re-vamped Ghibli posters I designed a while back.

I will add to this collection! 
I really don't get people that write fan fiction.
Seriously, stop. Come up with your own fucking ideas.
FML, my creativity is like…
…a fuckin' roller-coaster at the moment. One second, I'm full of inspiration, ideas, motivation, productivity etc. I put the kettle on and I get busy. The next, nothing. Vacant. Gone. Fuck-all. Motivation comes to a complete stop, and my creative well is as dry as M. Night Shyamalan's.
This is me in a nutshell. Once I'm in my stride and the momentum's fluently transcending into my work, I'm so bloody happy with myself it's untrue. But as soon as I hit a dry spell, I become the most unpleasant person on the planet. I see myself a humane individual, but when experiencing one of these turns, I could kick a kitten through an electric fan.
The one saving grace - these full stops don't last very long. I just need to find something to motivate me. Ho hum.
Well, I've not been on here in quite some time…
It's nice to be back :)
So yeah, reasons for my tumblr hiatus: moved out of my previous flat a week before Christmas, after desperately trying to find a way out for months. The people I lived with drove me insane. If it wasn't the creepy fruit-loop walking around in his underwear in the dark, it was the Jeremy Kyle couple kicking seven bells out of each other. I really like my ex-landlady, but she's an awful judge of character. I had to get out of there before I blew a gasket.
I didn't move too far away. My new place is alot cheaper too, and the people here are lovely. They keep themselves to themselves, much like me as my work hours are opposite theirs. I've only just recently acquired internet too, which is also the reason for my absence.

In the time I've been away (well, the last week or so) my pub has obtained a lot of media attention, which has been terrifying and exciting at the same time. When the likes of Stephen Fry and Sir Ian McKellen threw their two pence in, it's become international news. I won't bother going into the details, instead read this article if you're intrigued -  Sir Ian McKellen and Stephen Fry to pay for The Hobbit pub in Southampton's licence fee - The Daily Echo
I've also been drawing an awful lot in the time I've been away. I've not had access to an A3 scanner to upload my most recent stuff, but here's a little teaser of something I'm in the process of completing: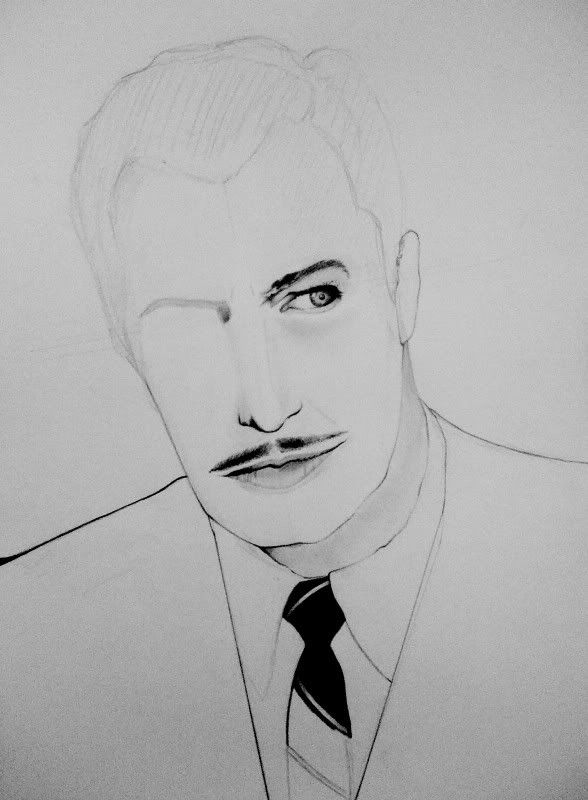 Vincent Price - a childhood hero of mine. (Had to alter the contrast in Photoshop a tad, as iPhone cameras are notoriously shit).
Right, that's pretty much everything up to speed. Will get round to uploading finished portraits/other work within the week.
Keep on tumblin'